About The Production
Most people who see HER MAJESTY are surprised to learn the nationality of its writer-director. They assume Mark J. Gordon must be a native born New Zealander, or at least have spent much of his life there. However, the truth is, that prior to the filming of HER MAJESTY, Gordon, an American, had never set foot on New Zealand soil. Yet, despite his California roots, Gordon has created a compelling and quintessentially Kiwi story that captures the essence of this tiny island nation and its people at a critical juncture in their history.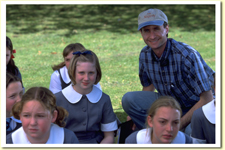 What would possess an American man to write a story set in 1953 from the perspective of a young New Zealand girl? For Gordon, it began with a love of independent films, such as "My Life as a Dog," "The God's Must Crazy" and "Cinema Paradiso." When a dream vacation to New Zealand was unexpectedly cut short, Gordon vowed that he would one day "write himself back" to New Zealand, and do so by creating a story purely for the joy it, much like the independent films he admired. While searching for the story that would finally take him back, Gordon came across a newspaper clipping which stated that following her 1953 coronation, Queen Elizabeth II had made a Royal Tour of New Zealand. Gordon quickly sketched out the story of a young Kiwi girl infatuated with the newly crowned Queen, and her small hometown which suddenly finds itself on the itinerary of the Royal Tour. Using the Queen's first ever visit to New Zealand as the spine, he proceeded to weave a fictional story around this momentous historical occasion, and HER MAJESTY was born.
As he further delved into New Zealand's history, writer-director Gordon discovered a country with a colorful and controversial past. He soon found another layer of depth and substance to enrich his story in the history of New Zealand's indigenous Maori people, their struggle against the Colonial settlers in the late 19th Century and their battle back from the brink of extinction. Their proud heritage and determination to survive against all odds became a major theme of the story.
********
Guided by the experienced hand of producer Walter Coblenz, HER MAJESTY was shot entirely on location in New Zealand.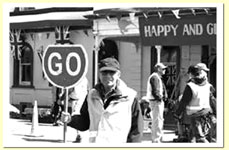 A variety of settings in the North Island contribute to the rich and varied look of the film, including Auckland, Helensville, Henderson, East Tamaki and Little Hui regional park.
Perhaps most serendipitously a four day location scout through every town and city between Auckland and Wellington led to the discovery of Cambridge, a quaint and colorful community about one hundred miles south of Auckland. Cambridge seemed to embody many of the elements director Gordon was looking for in the prime setting for the movie's fictional town of Middleton. Subsequently, the production team learned that on her actual 1953 Royal Tour, Queen Elizabeth II had in fact made a special visit to Cambridge. Many of the current citizens of Cambridge were also present at the 1953 Royal parade and festivities, and still had vivid memories of that historical visit.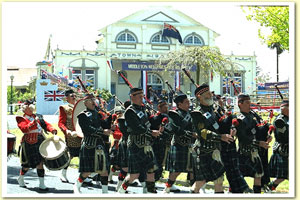 The citizens of Cambridge enthusiastically embraced the production of HER MAJESTY. In fact, despite record winds and rain, over twelve hundred townspeople participated as extras during the production, including a special cameo by their Mayor, John Hewitt.